A Linear PWM MODEL: A pulse width modulator average model sets output voltage and input current to functions of the input duty ratio. The simplest of all models results when the switched inductor current is continuous, CCM, continuous conduction mode. The process is governed by Z-Transform theory, requiring a zero-order hold and a limiter to constrain the duty ratio to be between 0 and 1. The current and voltage functions are nonlinear; but they can be made linear for the DC solution by using a STATESET element as shown below:


Normally, the duty ratio will depend on the output of a controller that senses the output current and voltage. The control law typically depends on the input and output voltage, making the overall solution nonlinear. But the STATESET element uses a constant for the duty ratio during calculation of the DC operating point; which effectively makes the system of equations linear, thus guaranteeing a unique solution.
Downloads:

Examples, ICAP/4 Drawings
Library and symbols, ".lib" and ".sym" files
CML.dll (XSPICE plugin)
Literature



Inside the Model: The following switch representation is used to make a model that relies on the superposition of the solutions for the 3 switch positions shown.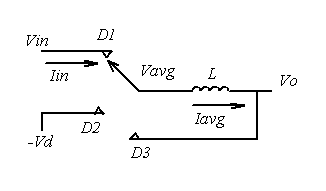 For superposition to work, the driving point impedances for each position cannot be affected by the switch position. If that's true, then:


(1)

and



(2)

For a complete development of these equations please download the literature.
The Buck Model: The buck regulator, shown below, is used To reduce the input voltage. The D1 switch is driven and the D2 switch is constructed using the freewheeling diode. In CCM, D3=0. As the load current is reduced, the regulator drops into DCM and D3 is greater than 0.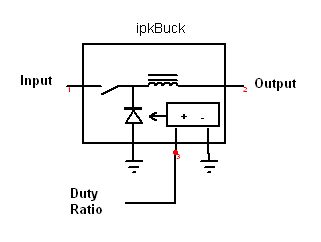 The Boost Model: Shown below, this circuit is used to increase the input voltage, reversing Vo and Vin. Switch D2 is driven and the freewheeling diode goes into the D1 switch position